Make it easy for your customers to pay you!
Streamline statement of account generation, dispute management and payment proof submission by giving your customers their own secure customer portal!
What finance teams have achieved with Peakflo
200
hours saved per month by the finance team
15
days reduction in invoice collection time
+700K
Automated reminders sent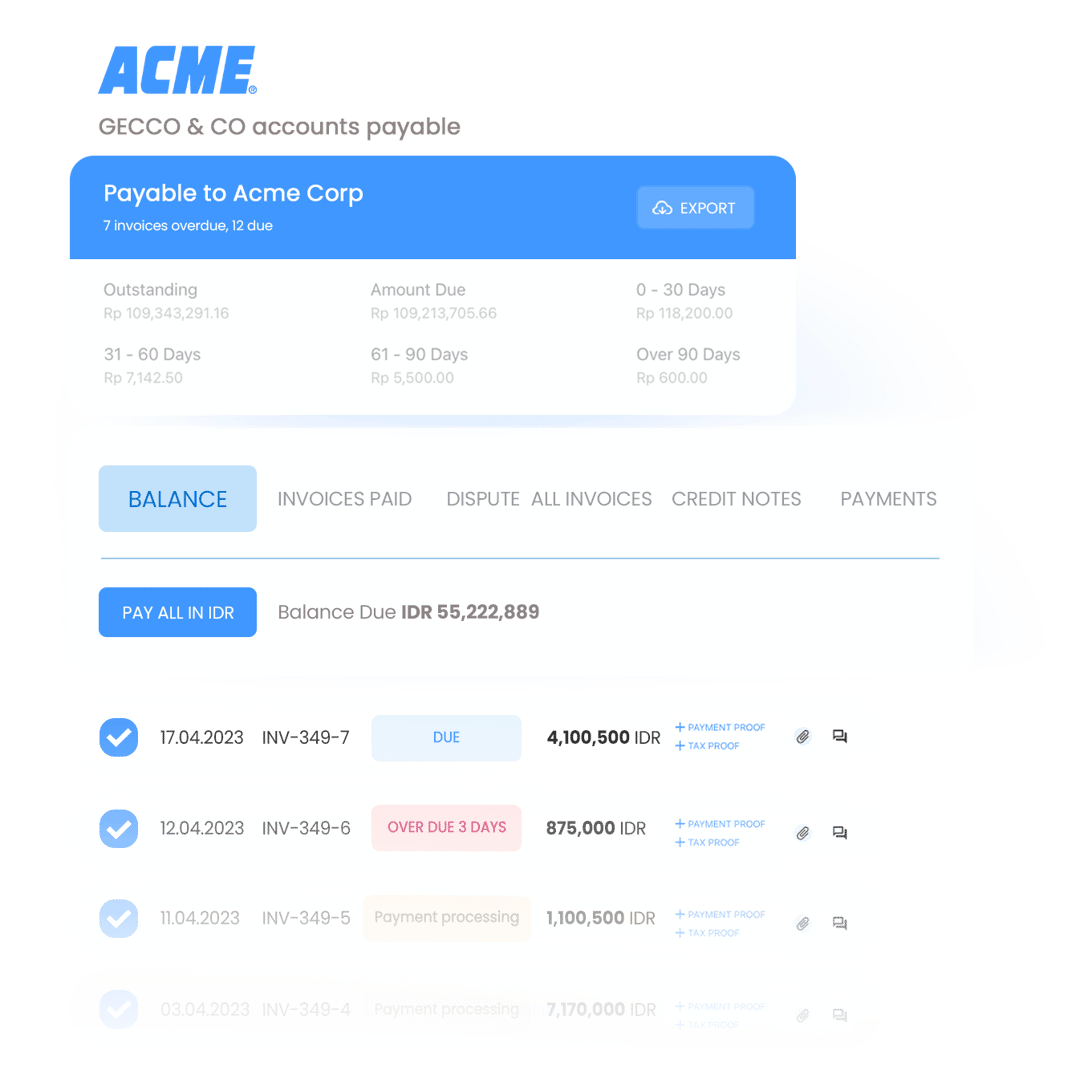 All your customers' payables in one place!
Allow your customers to have visibility over their balance, paid invoices, disputes, credit notes, and payments in a fully white-labeled customer portal.
Statement of the account generation (Outstanding and activity based)
Your customers can download the statement of their account at any time within any time span.
Aging Balance tracking
Your customers can have visibility over their aging balance from Peakflo customer portal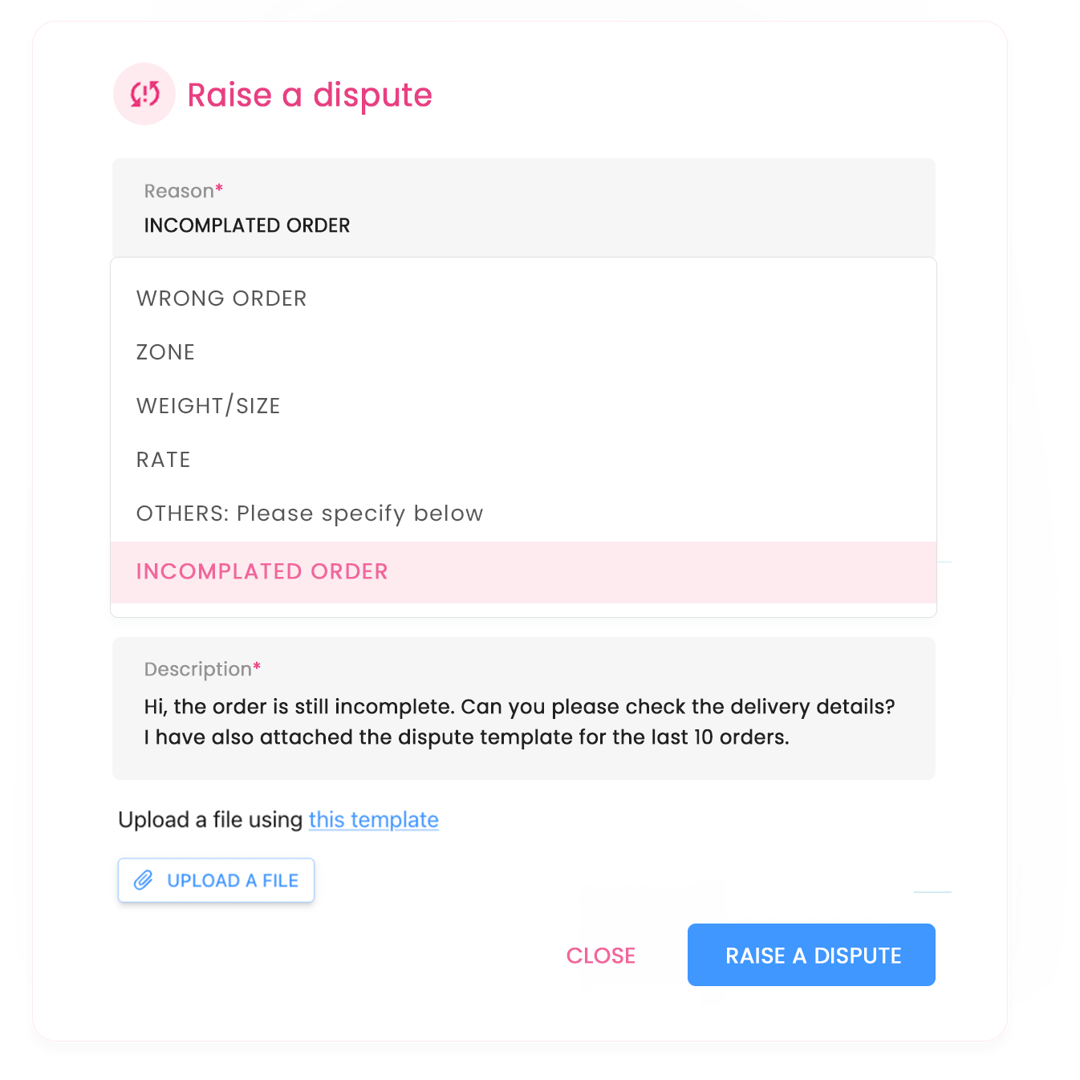 Resolve disputes professionally
Your customers can easily raise disputes against a specific invoice with customizable dispute reasons.
Notify the right stakeholders
Based on the dispute reason, the right stakeholders will get notified instantly via email
Upload dispute templates
Your customers can access the dispute template and upload the filled out template for your company
Make it easier for customer to communicate with you!
Instead of having multiple channels with no visibility over customers' questions, disputes and file submissions, centralize all the communications for your customers in their own portal.
Ask questions
Your customers can ask questions and get their queries answered instantly.The account owner will get notified via email after the question submission.
Tax & payment proof
Make it easy for your customers to send you payment proof and tax proof for each invoice. The tax and payment proof will be sent to the assigned stakeholders.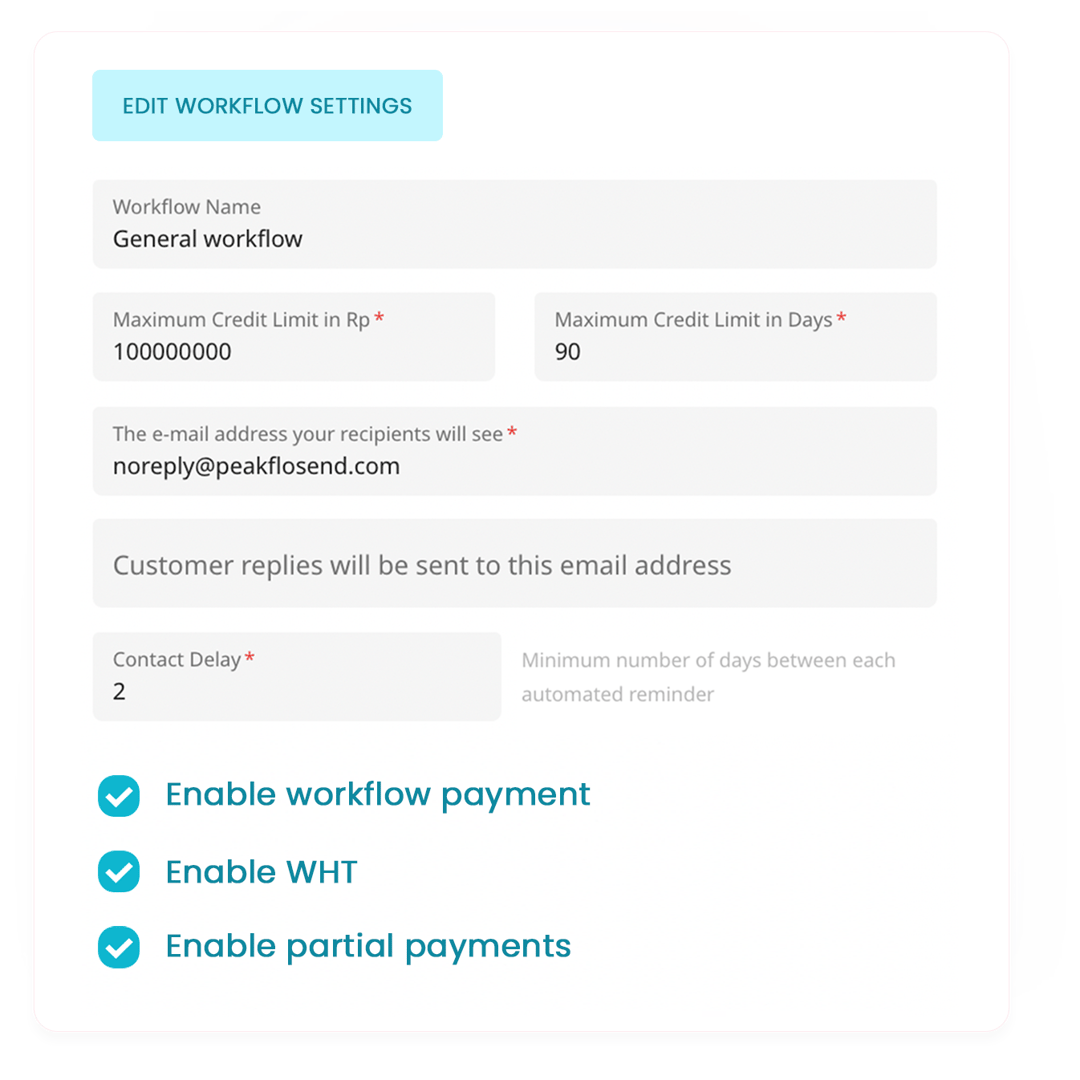 Collect payments easily!
Allow customers enrolled in smart workflows to have access to different features in their customer portal based on their categories.
Withholding tax
Activate WHT for your clients and allow them to choose the right withholding tax amount
Partial payments
Activate partial payments for your customers through smart workflows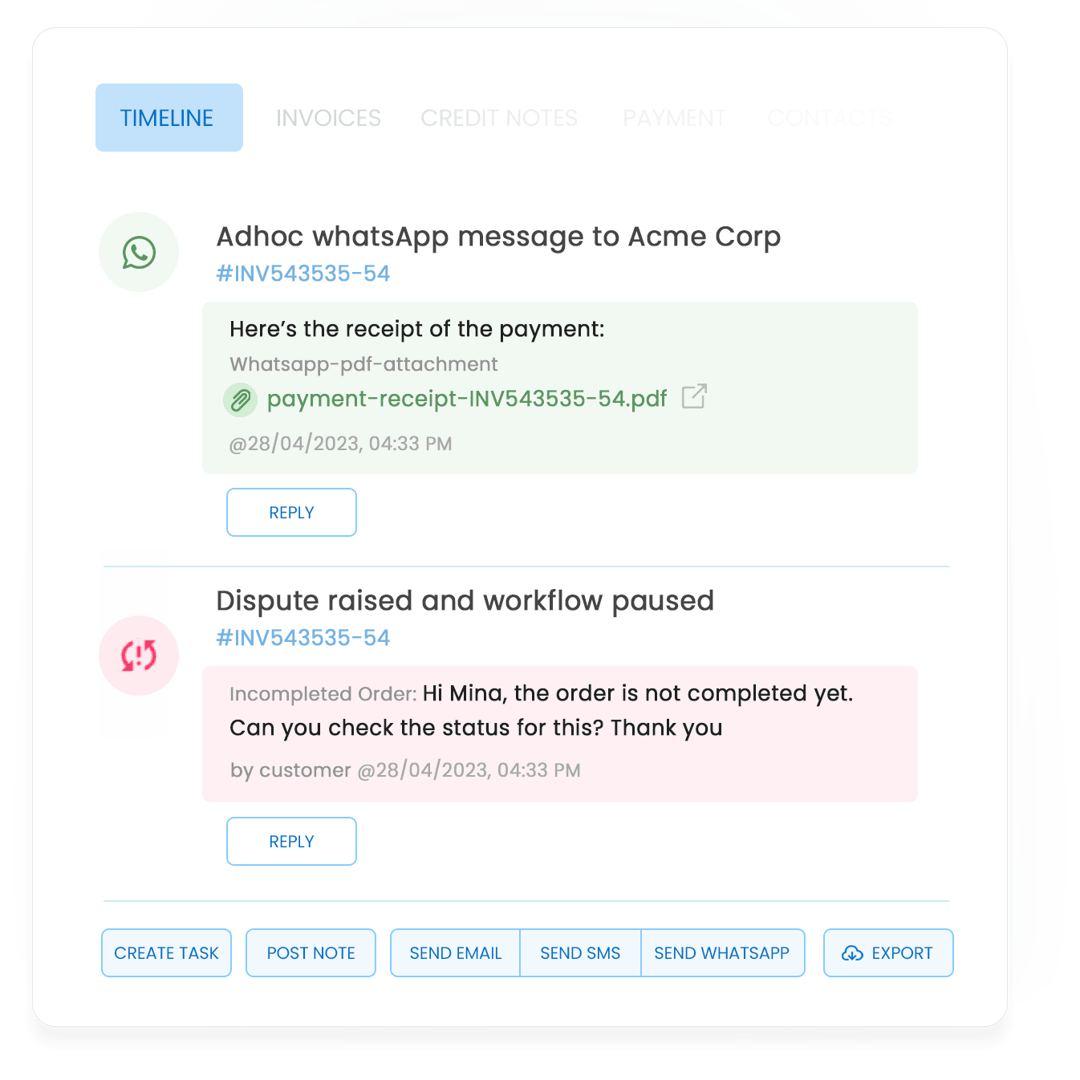 Access customer audit trail that keeps all communications in one place!
From the customer timeline, have full visibility over all that has happened! From your clients WhatsApp messages to the raised disputes and file uploads, it will all get recorded in Peakflo timeline. You can reply to all of them within the timeline itself!
Incoming whatsapp responses
The whatsapp responses along with the file submissions will be accessible in the customer timeline
Disputes, questions, payments, payment proof and tax proof
All the communications and files uploaded through the customer portal will be visible from the timeline
Turbocharge your accounting software with Peakflo or import your data seamlessly.
Integrate and leverage the power of automation without affecting the way you work.
Get Started!
Put an end to inefficient invoicing
automate your collections and get paid up to 20 days faster!
Request a demo
Discover Peakflo
FAQ
What is a customer portal?

How does the Peakflo customer portal work?

How can I collect overdue payments from clients in the customer portal?

How to resolve disputes for clients with Peakflo?

How can customers access the statement of the account?

How to get payment proofs and tax proofs from customers?

How to answer customer questions regarding their invoices in Peakflo?

How to activate partial payments in the Peakflo customer portal?